Metaverse Virtual Classroom: The New Era Learning Experience
Virtual technology has been leading the world towards the new paradigm of various industries- from VR healthcare labs to virtual classrooms for education. Over the years every industry has embraced the idea of an immersive environment. In the coming time, this might even help shoot up the productivity and efficiency of the people involved in the process.
One of the industries in which immersive technology has helped usher in a new era is education. During the pandemic, the education industry saw a shift, and a gap was created between the educator and the student. Though, this was bridged by technologies like online classes and webinars, soon the problems grew obvious and frustrating for educators and learners while using online classes.
These were:
The non-interactive classes
The classes were easily procrastinated
Peer-to-peer learning was barely happening
And as the problem grew bigger, it led to the entry of the emerging technology of the metaverse.
Web3-based technologies like blockchain, nfts and metaverse became a perfect hammer to break all these limitations.
'Edverse- the education metaverse' is the best Metaverse platform for online Education as it unlocks a door to a world of vast opportunities. Edverse recently raised $700K in its seed round, with our core idea of integrating Education with metaverse. During the past 7 months, we are 'the shift' that education has witnessed. Launching our pre-alpha version in July, we became the world's largest education metaverse to have a running version.
Now, we have successfully launched our virtual classroom, ' Edverse's Metaverse Classroom'. This virtual classroom will deliver the 3D immersive learning experience in a way never seen before.
Edverse's Metaverse Classroom


Edverse Meta classroom is the world's first virtual classroom that will offer classes for educators and learners inside the Metaverse. Aside from an immersive learning experience, these metaverse classes exponentially shoot up the efficiency of both the students and teachers. Everyone can join from the comfort of their own home and educators no longer need a physical infrastructure, pen drives with ppts/videos or even worry about not being heard at the back of a room.
How will Virtual classrooms help rewrite educational pedagogy?
Metaverse classrooms are indeed rewriting the ways classes were conducted previously. When we compare traditional education with what metaverse education has to offer, we can clearly see the gaps that Edverse is covering.
Benefits of Virtual classrooms for students
Let's take up a simple example to understand the benefits of virtual classrooms for students. If a student from India had to study culinary arts, firstly, he would have a hard time looking for an adequate institute. After that, the second issue that the person will face is the geographical distance they have to travel to that institution. Lastly, not every session that they'll attend will hold their attention span and the retention rate is comparatively lower.
On the contrary, Edverse's virtual classes give any student an opportunity to study from the aces of their respective domains from all across the globe. This being said, any student will have an opportunity to choose what they want to study and from where they want to study. The second issue automatically dissolves, by logging into any of the metaverse classes. The geographical barrier is trimmed as every classroom is just one click away from any student. Lastly, the attention plus the retention rate is exponentially improved in e-learning.
- Analysing the benefits of e-learning, SH!FT has observed an increased learning retention rate of 25% to 60%. Observations claim that face-to-face learning retention rates range from 8-10%.
Benefits of Virtual classrooms for teachers
Geographical constraints are a barrier for both, let it be the teacher or the student. And as previously discussed, this barrier is well tackled by Edverse's virtual classes. Moreover, virtual classes will give educators a limitless teaching experience. This means that the upper limit to the number of students they can teach will rise.
In addition to this, the teachers will be delivered 3D NFTs based on educational models. These NFTs (as we call them Ed-NFTs) can be used to educate students.
These Ed-NFTs enable any tutor to grasp the practicality of any concept at its core. Thus enabling their students to embrace this knowledge.
These are just a few of the infinite learning and teaching opportunities that Edverse's metaverse classes will provide. Why don't you read through and follow some simple steps and eventually witness how exactly Virtual classes will change the pedagogies of education?
| | |
| --- | --- |
| Students | Teachers |
| Experiential and Hands On Learning | Teach difficult STEM concepts in 3D |
| Deeper conceptual understanding | 3D manipulative modules for all educational content |
| Higher Learning Outcomes | Engage and Retain Student interest |
| Application Oriented Pedagogy | Impart Valuable Skills and on Job Training |
| Student Paced and Student Focused | Educators can upskill and join other classes as learners |
| Safe Zones for conducting Practicals , Experiments and Skill Development | Manage Dashboard to display classes |
| On Job Training Simulations | Manage and Control the Class Setting to maintain decorum and discipline |
| Ready for the Knowledge Economy | Personal Branding through ratings and feedback |
| Multi- modal Content to Cater to all Learning Styles | Use of technology and multimodal content delivery to engage students |
Steps to access metaverse classroom:
Step 1. The classroom can be accessed by visiting our site and clicking on the 'Classroom Button.'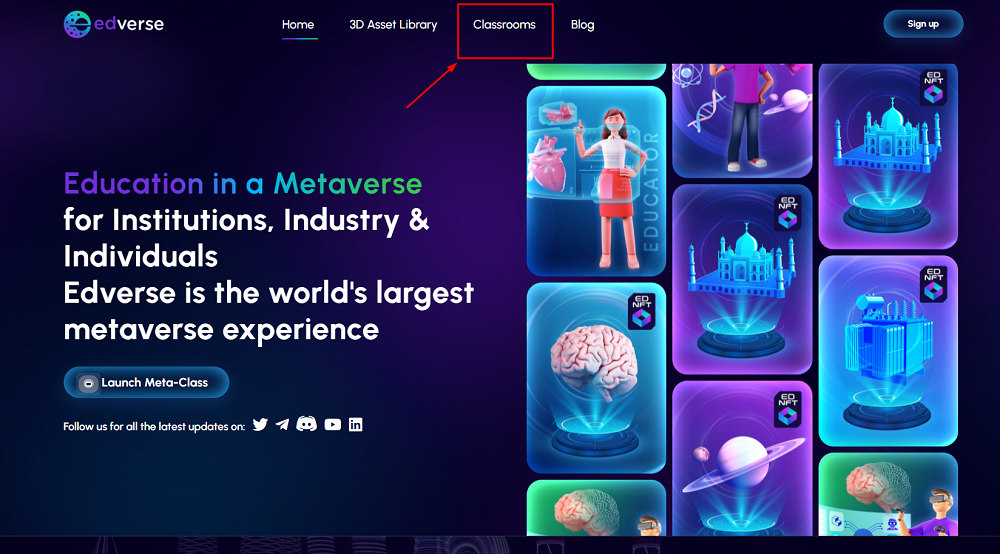 Step 2. Login if you are an existing user of Edverse. Click on the 'Get Started' button to sign up for the platform.

Step 3. After login, your classroom portal, there will be 3 sections
Your classrooms: the metaverse classrooms you've registered for. In case you're an educator, your created classes will be shown here.
Live classrooms: Any classroom that is active at that moment will be shown in this column.
Upcoming classrooms: Any upcoming class will be present in this column.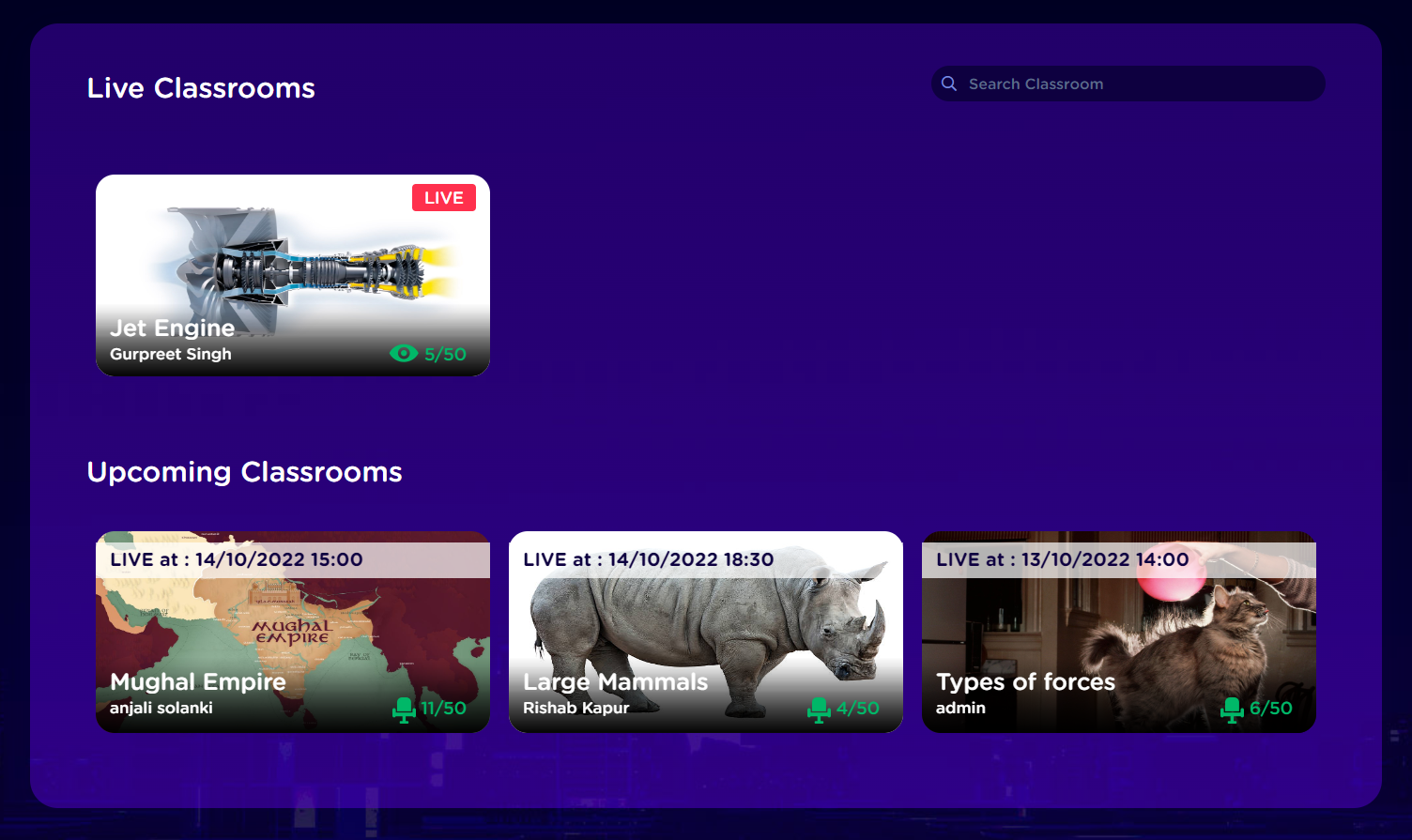 Step 4. Click on any of the classes you want to register for. This will redirect you to a window where you can register for the chosen class by clicking the ' Register for the classroom' button.
After confirming the registration, the ' Join Classroom' button will appear. By clicking on this, you will be redirected to your metaverse classroom window. The class will also appear in the 'Your classrooms' column on your metaverse classroom portal.


Step 5. A ' Select Avatar' button will appear in the middle of your screen from where you can select a 3D avatar for yourself.
You can even change your credentials from Student to teacher or vice versa for any of the metaverse classrooms.
Step 6. Customize your avatar with cool outfits and accessories.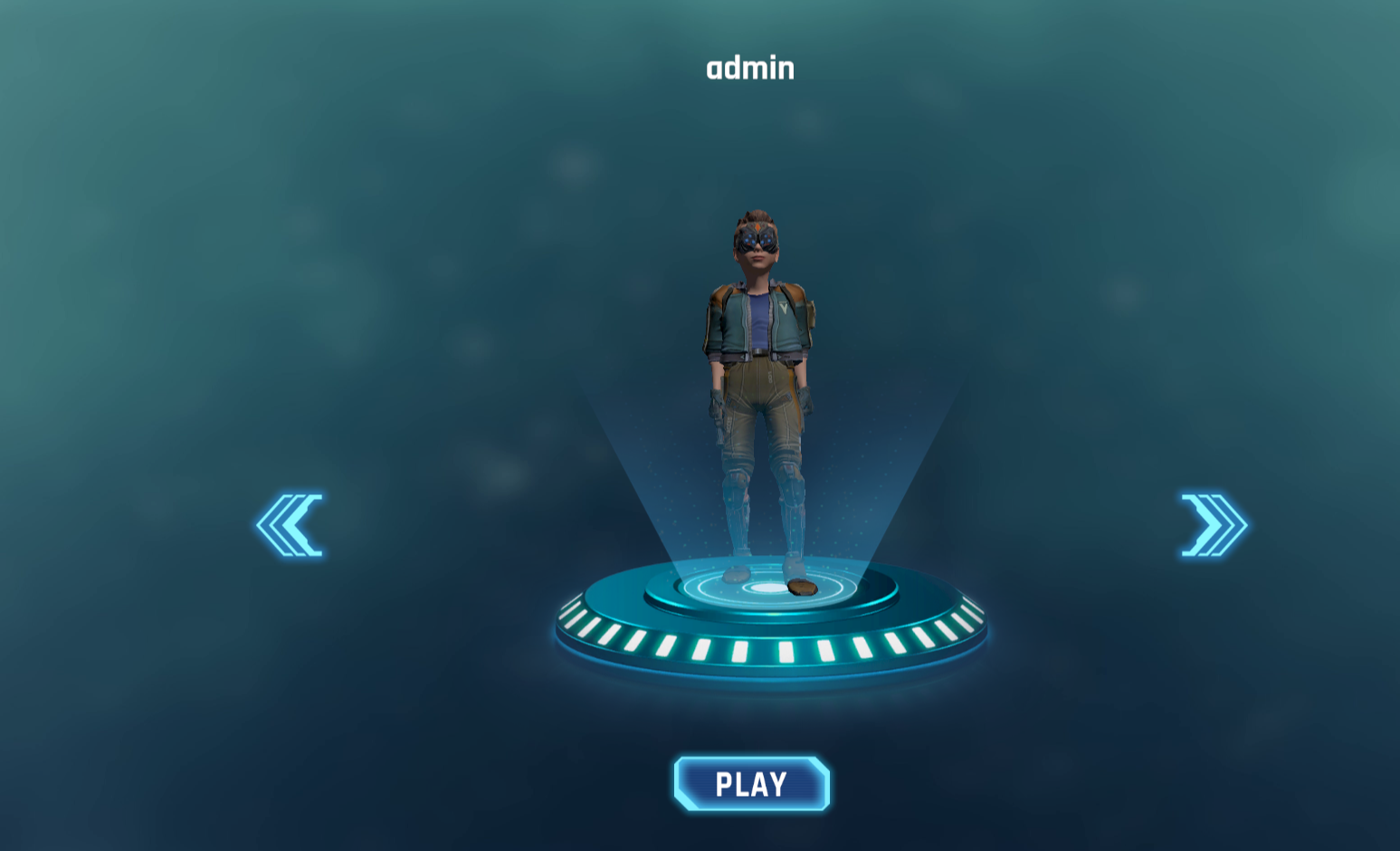 Step 7. Enter the world's most immersive and futuristic class by clicking 'Next'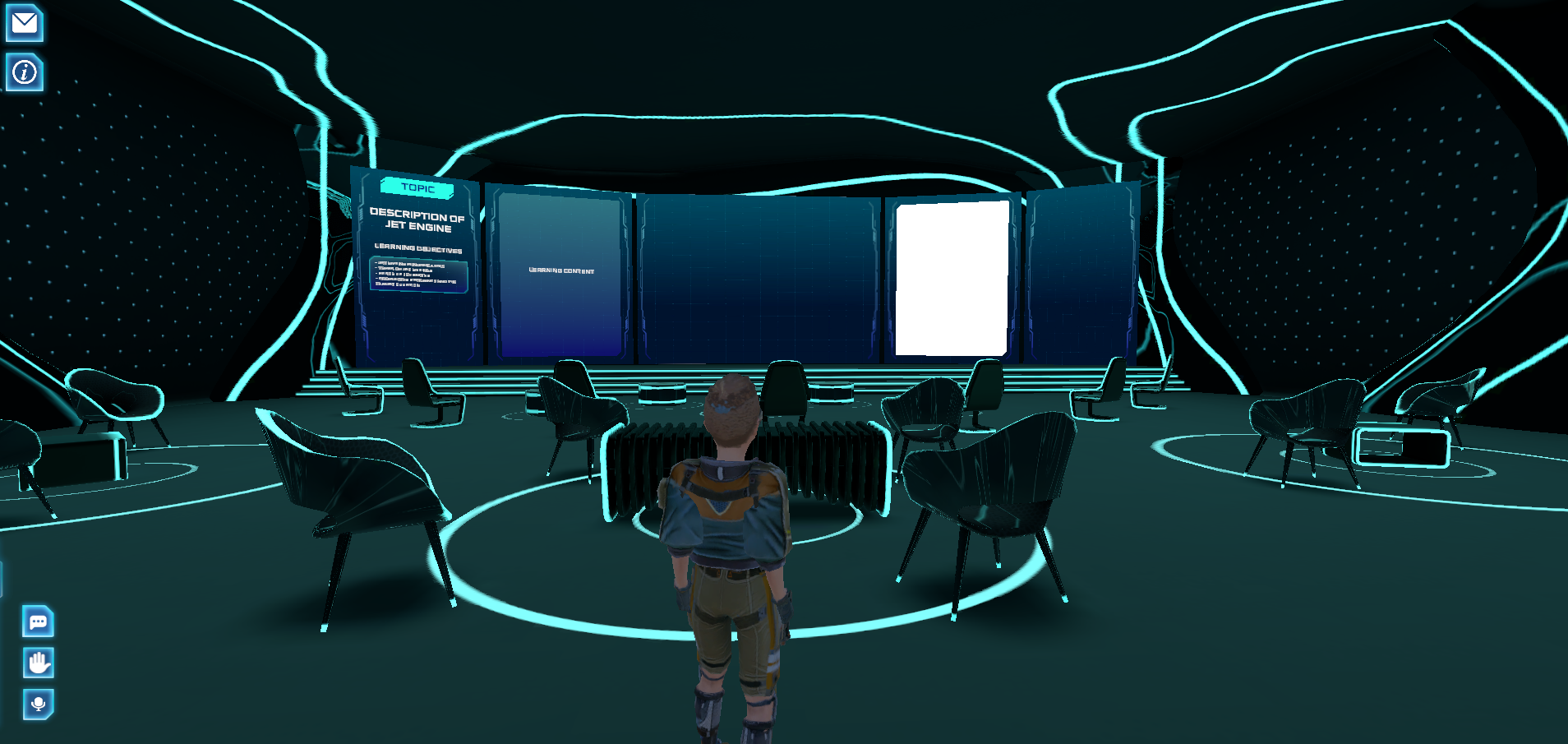 Step 8. Experience the journey of education as never before. Bon Voyage!!
All you need to know about your virtual classroom.
Here are some pointers that'll make your immersive experience hassle-free:
5 Screens of the future:
The 5 screens that are present in your classroom will have 5 unique features that'll help you to facilitate this futuristic approach to learning.
Topic and Description of the class: Here, the topic and the overview description of the class will be given. This will enable students to take note of any topic and keep a record of the class.
Any educational content shared during the class: PPTs, case studies, docs or any reference material will be shared on this screen. This will enable students to easily access the data without hampering the flow of the class.
3D modules/ Screen share: Educators can use this screen to display NFTs, i.e., the 3D models to explain any concept to the students.
Whiteboard: A 'not so traditional' whiteboard will be present there so that educators can scribble their knowledge out to students.
Wiki Search: This screen will have a voice activation command that'll help you to look up any educational content. In simple words, it will be like a "your words are my command" situation.
i Button: This button will give you all the instructions regarding the movements of your avatar, features of the classroom, and info on Report abuse.
Interactive Option:
Features like a chat box, raise hand and mic is given to all the users so that they can experience peer interaction as well as freely ask doubts to their educators.
The Library of the future.
As we were discussing previously, NFTs will be playing a crucial role in the metaverse classes. Thousands of NFTs have been created for the students as well as the teachers to access.
You can access this 'Central Library' feature by following some simple steps:
Step 1. Go to our website and log in/ signup.
Step 2. Click on the 'Central Library' Button
Step 3. You can choose any of the NFTs to learn or educate about any concepts in depth.
Step 4. You can even use the search bar to search NFTs using relevant keywords.
What are the new vistas and opportunities that will open up?
As the world gravitates toward becoming more technologically intensive, the future workforce needs to be equipped with the appropriate skill sets. New and emerging technologies like Augmented Reality, Virtual Reality, Blockchain and Artificial Intelligence will impact all areas of our lives. Educational institutes can offer cutting-edge solutions to students and invest in metaverse land to build meta-versities.
The Valued Added Learning that Metaverse Virtual Classrooms Offer:
Synchronous Virtual Classrooms can address specific and individual needs of learners. They go beyond the scope of physical classrooms to offer engaging experiences with education. Moreover, offer real-time teaching, instant resolutions, and high engagement activities that lead to active learning.
The one–on–one connection is established flawlessly in a virtual classroom, just like a physical classroom. However, it demands changes in pedagogical approach and educational content delivery methods.
Student–Focused Approach
Virtual classes shift the focus from content to student-led and encourage active participation. The teachers allow collaborative and independent learning space, and students are encouraged to participate at their comfort levels. The method aims to generate self-interest and self-confidence to be in charge of the goal accomplishment.
Highly Interactive
Virtual Learning offers immense scope for student-centric methods, making them active learners. Active learners are better engaged with course content enabling higher retention and positive outcomes.
This further escalates intrinsic motivation to achieve more milestones. In virtual classes, teachers can pave the way for high interactivity through frequent one-on-one interactions, brainstorming, group discussions, and Q & A s.
Encourages Collaborative Learning
Learners collaborate through the available tools to achieve shared learning goals, doubt resolutions and exchange of information. Collaborative learning in these classrooms occurs through break-out rooms, shared chats and group work.
Collaborative learning virtual rooms encourage healthy team bonding and healthy group competitions. Groups are formed to create information centres and subsequently disseminate knowledge further to the group of learners. It enhances skill development and team bonding.
Multi-Modal Content Delivery
Virtual learning rooms build upon the concept that no individual learns alike. Hence it facilitates the exchange of instructional material through many modes and deploys a wide range of media. Links, text, videos, audio, animations, embedded.
These are a few of the futuristic features that metaverse classes and as a whole Edverse will provide to all the stakeholders of education. Though we are at an early stage of this educational revolution, we are standing firm with a lot more to offer to those who have an enthusiasm for education. Stay tuned to see what Edverse has to offer in the near future and till then have an immersive education experience with Edverse Metaeverse classroom.