How to Invest in Metaverse? A Brief Guide on Metaverse Investments
2021 and 2022 saw the emergence and rise of the Technological Age. Blockchain, Digital assets such as NFTs, and crypto solutions were the technological revolution's hallmarks. However, the one trend that all have been keenly watching is the Metaverse.
Metaverse Development is expected to be an $800bn sector by 2024.
Metaverse will dictate the new global economy. While investors are planning and working on building their Metaverse Investment Portfolios, early movers will be at an advantage.
Many enterprises are already planning their expansion into the Metaverse. They are looking into virtual trademarks for virtual goods and services. Brands are planning to leverage the benefits of the Metaverse to monetize digital assets and expand and their reach audiences as never before. In short, they are gearing up to compete in the new virtual marketplace.
Why to Invest in Metaverse?


Undoubtedly, the Metaverse will revolutionize the way we live and interact thus opening a doorway to tremendous possibilities. Millions of people will access the Metaverse in real-time. No wonder Meta or Facebook has already issued an outlay of $ 10 billion into metaverse development.
Investments will probably rise as Meta seeks innovative ways to monetize it. Meta is experimenting with Horizon Worlds, a VR-enabled social platform for creators and developers.
Metaverse Real Estate is already a happening scenario. Many enterprises, celebrities and individuals have already invested in Metaverse Land. In fact, there have been reports of people whose virtual properties in the Metaverse have appreciated 1400 times, whereas those in the real space have seen two and half times within the same timeframe.
As Metaverses develop and evolve, they will become catalysts for blockchain systems, decentralized governance, education, finance systems etc. The rise of the decentralized, immersive 3D world powered by blockchain and unique cryptocurrencies will be powered when it has multiple stakeholders. The higher the investment activity, the higher will be the valuation.
The Metaverse is transforming the global economy. It offers many alternate investment avenues making it a bullish opportunity.
Different Ways for How to Invest in Metaverse


Anyone on the planet can invest in Metaverse. With a minimum level of investment, one can buy crypto assets or invest in crypto stocks. Since there are no geographical boundaries, the entry barriers are minimal.
Let's assess how an individual or organization can consider investments in the Metaverse.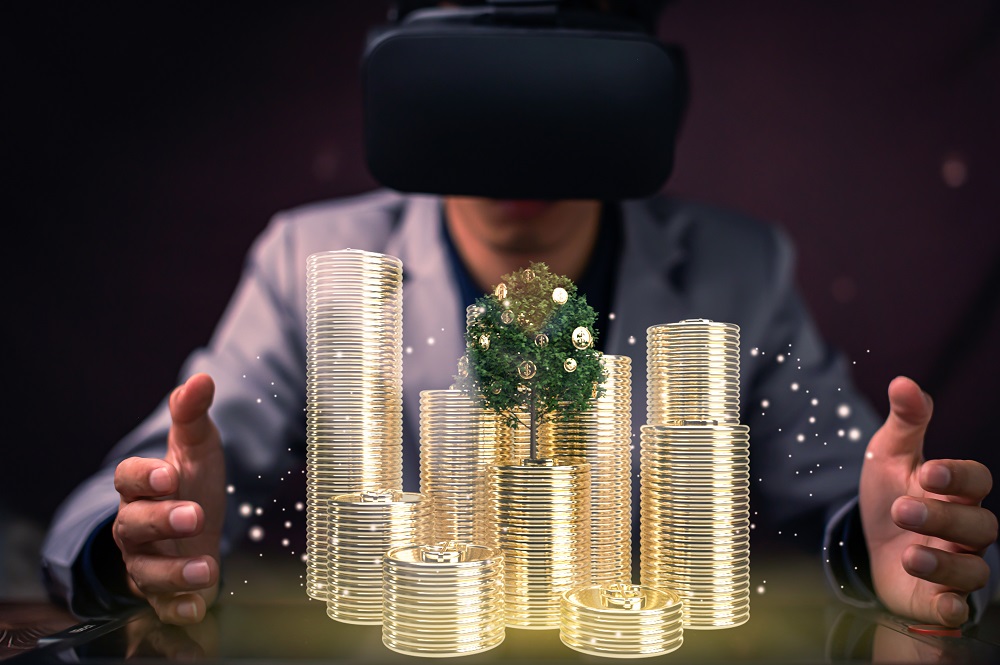 Invest in Metaverse Crypto Tokens


This is a basic Metaverse investment to make. All you need is a digital wallet to store the currency and transact in it. There is mostly an identity / KYC verification, and it is a pretty straightforward transaction.
Most Metaverse Platforms have their native or preferred currencies. As the Metaverse platforms valuation increases, so will their token's value. All Metaverse transactions happen in crypto, hence, investing in a promising cryptocurrency is the first step of the investment journey.
Metaverse Land


Currently, Metaverse Land and Real Estate is a hot trend. Businesses, celebrities, and individuals are exploring investment opportunities in metaverse land. It's a big trend, and market reports substantiate it. 
Market data pegs the Metaverse Land revenue growth to reach $ 5.37bn by 2026.
Moreover, it is one of the easiest and safest methods to make a Metaverse investment. To start, you need to sign up on a Metaverse Real Estate platform. Link your digital wallet and fund it with the specified currency. Go through the property listings, explore the property and select your option. Complete the financial transaction, and once you receive ownership in the form of NFTs, you're done.
You are a proud Metaverse Property owner now!
Read in Detail: How to purchase land in metaverse
It's a great investment opportunity for organizations and institutes as well.
For instance, educators and institutes keen on exploring opportunities land for educational purposes can sign up with Edverse, the world's first education Metaverse.
The first of its kind platform Edverse plans on leveraging the power of the Metaverse to decentralize and democratize education. There is an opportunity for all from learners to educators to creators and promoters. Promoters can consider land leasing and ownership that will further the cause of the education sector.
Consider Metaverse NFTs


When you buy land in the Metaverse, you receive the ownership as NFTs. However, NFTs can also be used to invest in many other digital assets. Art, Fashion, and Music brands are selling collectables and other creations in the Metaverse.
Moreover, NFTs are exclusive as they are equipped with unique identification codes, thus the authenticity can be established.
For instance, Sotheby sells Digital Art NFTs on Decentraland. Major fashion brands like Gucci or Adidas items are also available in the Metaverse. For companies, it's also a unique way to reach untapped customers. And purchasers get access to high-quality brands, which can be used for later transactions across distribution channels.
Metaverse Experiences


This is an innovative way to plan your metaverse investment portfolio.
People gravitate towards novel and engaging experiences. For instance, if you are a Metaverse landowner, you can rent the spaces out to enterprises and individuals for business and social interactions. You can even rent out billboards and earn from advertising revenues.
Consider Metaverse Stocks


You can also consider investing in companies that are into metaverse development projects. Many associated enterprises work on technologies like 3D, AR, VR, etc., within the metaverse ecosystem. Alternatively, you can invest in stocks of companies investing in the Metaverse.
To wrap up…


There are direct and indirect ways of investing in the Metaverse. As of now, it is a new concept, and people are still unclear about the pros and cons of making Metaverse Investments. But weighing in your options carefully and being wise in your digital investments can lead to you a 'Boom'. 
At Edverse, we offer investors an opportunity to partner with the world's largest and one-of-a-kind educational Metaverse.
Vantage predicts that the Metaverse Education market, valued at USD 4.39 Billion in 2021, will grow to USD 32.39 Billion by 2028.